2009 ~ 2017
2017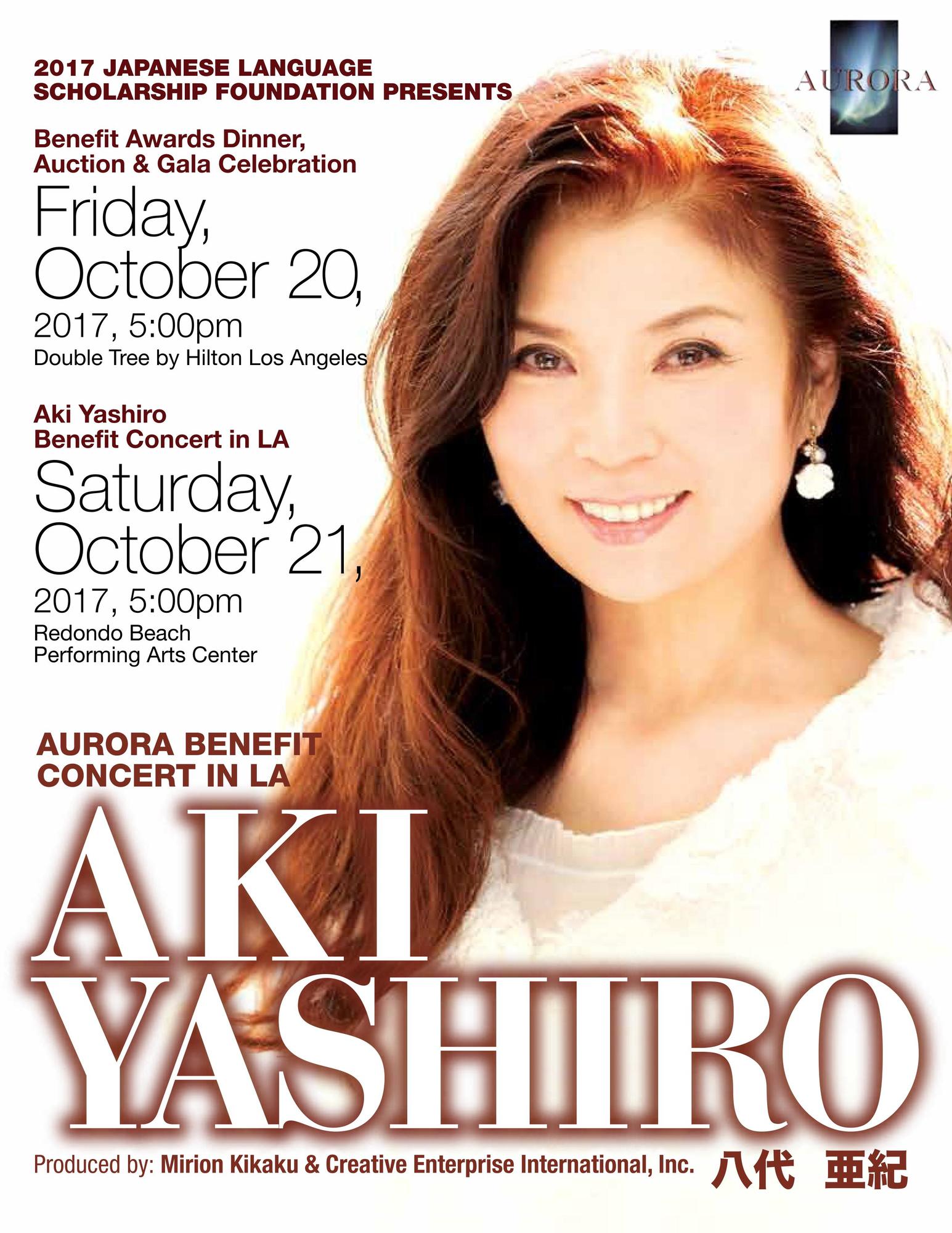 Benefit Awards Dinner, Auction & Gala Celebration
Friday, October 20, 2017
Double Tree by Hilton Los Angeles
Aki Yashiro Benefit Concert in LA
Saturday, October 21, 2017
Redondo Beach Performing Arts Center
Aki Yashiro was born in the city of Yashiro in Kumamoto Prefecture in Japan.
She made her debut in 1971 and became widely known with the song "Namida Goi" (Tear Love) in 1973. Since then, she has had many hit songs including "Ai no Shuchaku Eki" (Terminal Station of Love), "Mo Ichido Aitai" (I Want to See You Again), and "Funa Uta" (Song of the Boat). In 1980 she won the Grand Prize of the 22nd Japan Record Awards with her single "Ame no Bojo" (Affection of Rain). In 2010, when she celebrated her 40th year as an entertainer, her singing was recognized with the Cultural Affairs Agency Director's Award.
Also a fine artist, Yashiro is a permanent member of Le Salon in France, the world's oldest art exhibition and an artist's gateway of success, with her art pieces having entered the exhibition five years in a row.
In 2012, she released a jazz album "Yoru no Album" (Album of the Night) from Universal Music, which was distributed in 75 countries worldwide, making it the largest-scale distribution in the history of Japanese albums. In March, 2013, she held a live show at Birdland, one of the most established jazz clubs in New York, and in August she released the album "Yume no Yoru (Dream Evening): Aki Yashiro Live in New York," recorded live at that performance.
In October, 2015, Yashiro released her first-ever blues album "Aiuta" (Elegy). That year, she was also appointed as Japan's Cultural Ambassador to Mongolia. On October 19 of the same year, she released the song "JAMAAS Shinjitsu wa Futatsu" (There Are Two Truths), in which she resurrected a Mongolian tune as her new song.
In May, 2017, Yashiro collaborated with Angela Aki, who made her debut as a sound producer in the 10th single by May J. entitled "10,000 Days of a Mother and a Daughter: Door to the Future," as Yashiro sang in the role of the mother in a duet.
On October 11, Yashiro released her first jazz album in five years, "Yoru no Tsuzuki" (Continuation of the Night).
2017 Thank you!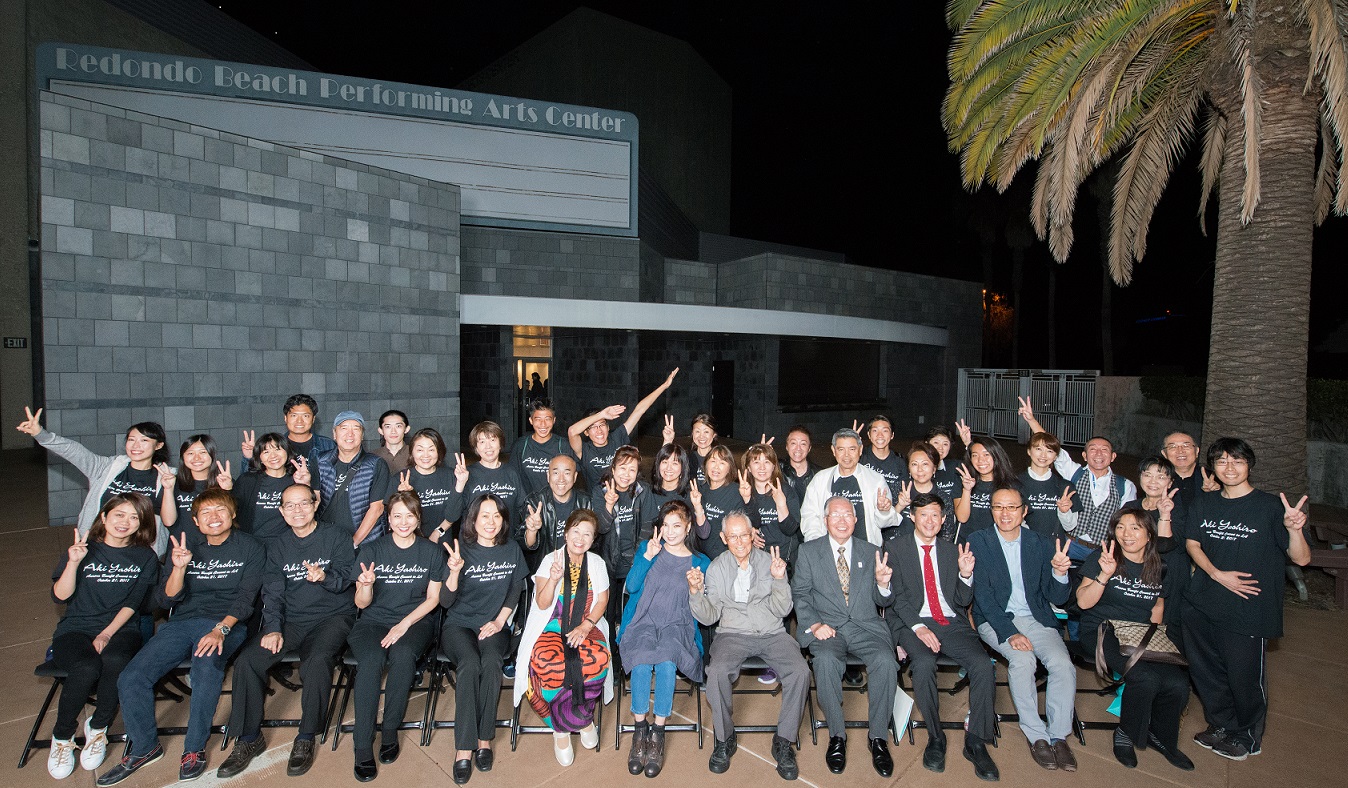 Aurora Foundation would like to express our gratitude and appreciation
to all of the sponsors, staff, volunteers, and supporters
who made Awards Dinner GALA & Benefit Concert with Aki Yashiro a great Success!
We could not have succeeded without your dedication and support.
October 21, 2017
Photo by Tak S. Itomi
2016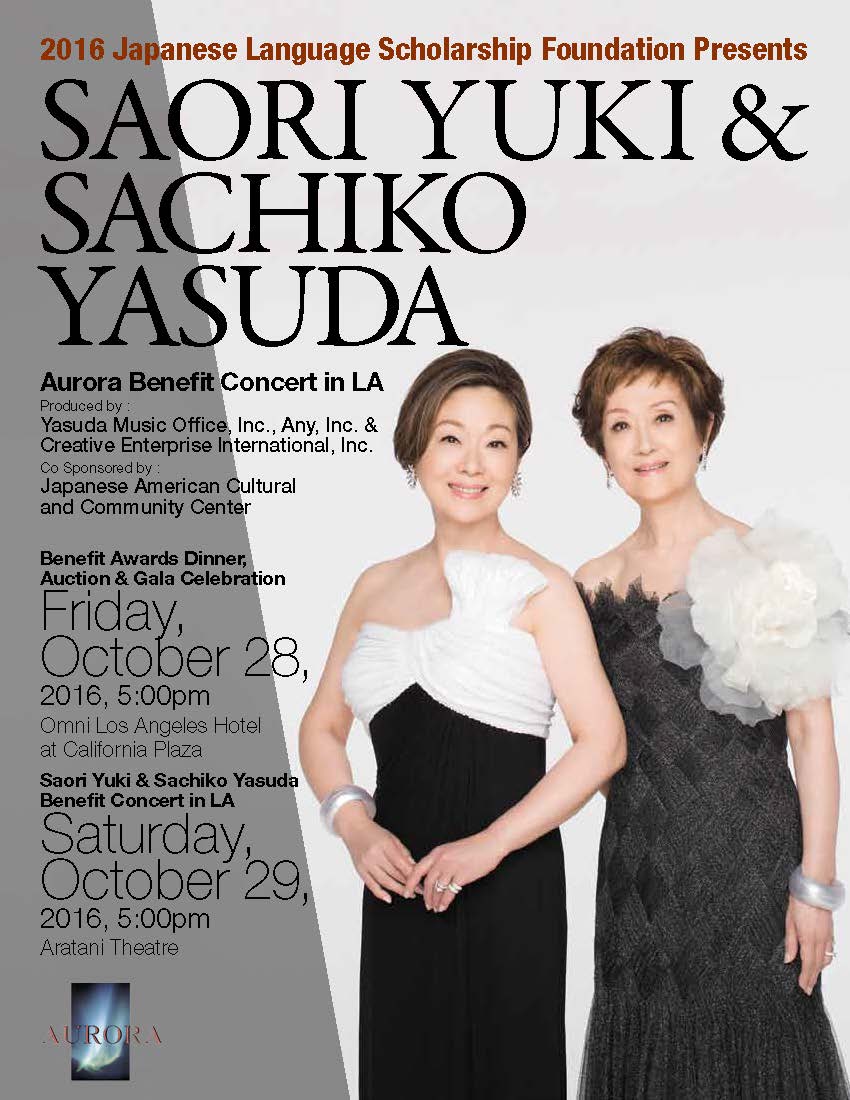 Benefit Awards Dinner, Auction & Gala Celebration
Friday, October 28, 2016
Omni Los Angeles Hotel at California Plaza
Saori Yuki & Sachiko Yasuda Benefit Concert in LA
Saturday, October 29, 2016
Aratani Theatre
Saori Yuki
Saori made her debut in 1969 with the song "Scat in the Dark," a tremendously successful hit, creating a scat storm. She won numerous awards with songs like "Tegami" (Letter) and "Koibumi" (Love Letter). In 1983, Saori appeared in the movie "Family Game," winning the Best Actress in a Supporting Role at the Mainichi Film Awards. She went on to take part in dramas and other films as an actress as well as playing other roles including an emcee and a narrator. In the fall of 2011, Saori collaborated with the jazz orchestra Pink Martini of the United States to create the album "1969," which was sold and distributed in over 50 countries around the world and became a global hit as the album climbed up to first place in the All U.S. Jazz Chart on iTunes. Saori then appeared as a guest performer for Pink Martini, not just in the U.S. but also in other locations such as Paris and Bahrain. She has received multiple awards such as the Education Minister's Award in Selected Arts and the Emperor's Autumn Purple Medal, both in 2012. In 2014, as a celebration of her 45th year since her debut, Saori held special performances, releasing cover albums "VOICE" and "VOICE II." She released a new song "Journey Called Life" on February 10 and another "I Will Live On with You (Saori Yuki Sings Teresa Teng)" on July 27, both in 2016 (Universal Music Japan). In March she was given the NHK Broadcast Cultural Award.
Sachiko Yasuda
Sachiko studied at Tokyo University of the Arts and went into classical singing, making her debut as Susanna in the opera "The Marriage of Figaro." She has also appeared in other operas by Mozart, Wagner, and others. She then studied at the Julliard School in New York as well as at the Eastman School of Music in Rochester. After teaching at Tokyo University of the Arts for 18 years, she retired in order to focus on her concert performances. Her reputation as a voice trainer is outstanding, having taught students who now appear in musicals in the likes of Shiki Theatrical Company. In concerts, she sings a wide variety of music including Japanese tunes, nursery rhymes, traditional songs, and classical pieces, showcasing beautiful Japanese language, versatile expressions, and heart-warming stage performances. She also gives lectures and speeches. In addition, Sachiko serves as a council member of the public-service corporation Plan Japan, a special instructor at Soen School of Childcare Professions, and an advisor for the non-profit organization "Smile of Japan through Music." In July, 2013, she received the Education Minister's Award for her work in communicating the beauty of the Japanese language and the heart of the Japanese people through children's songs and traditional music.
2016 Thank you!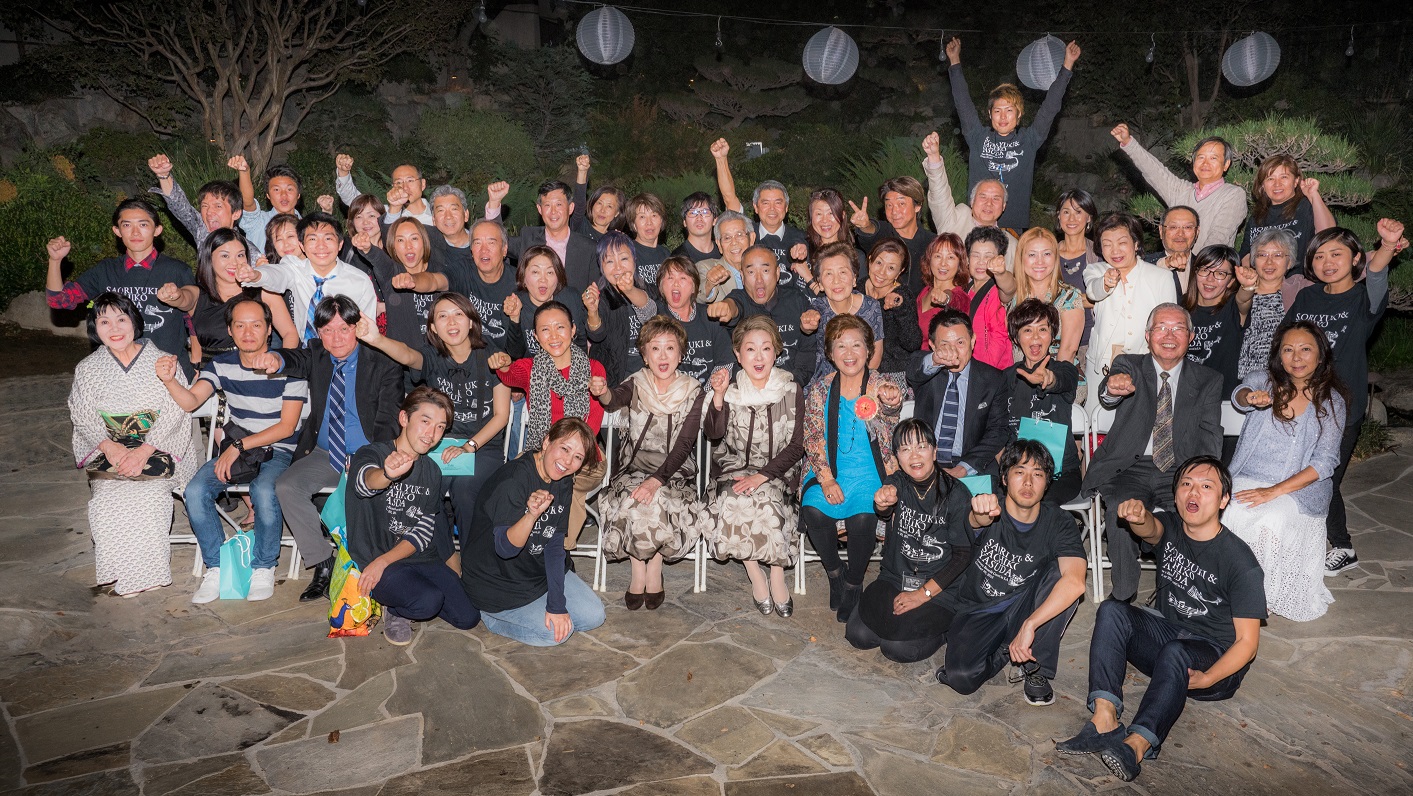 Aurora Foundation would like toexpress our gratitude and appreciation
to all of the sponsors, staff, volunteers, and supporters
who made Saori Yuki & Sachiko Yasuda Concert a great success.
We could not have succeeded without your dedication and support.
October 29, 2016
Photo by Taro Yoshida
2016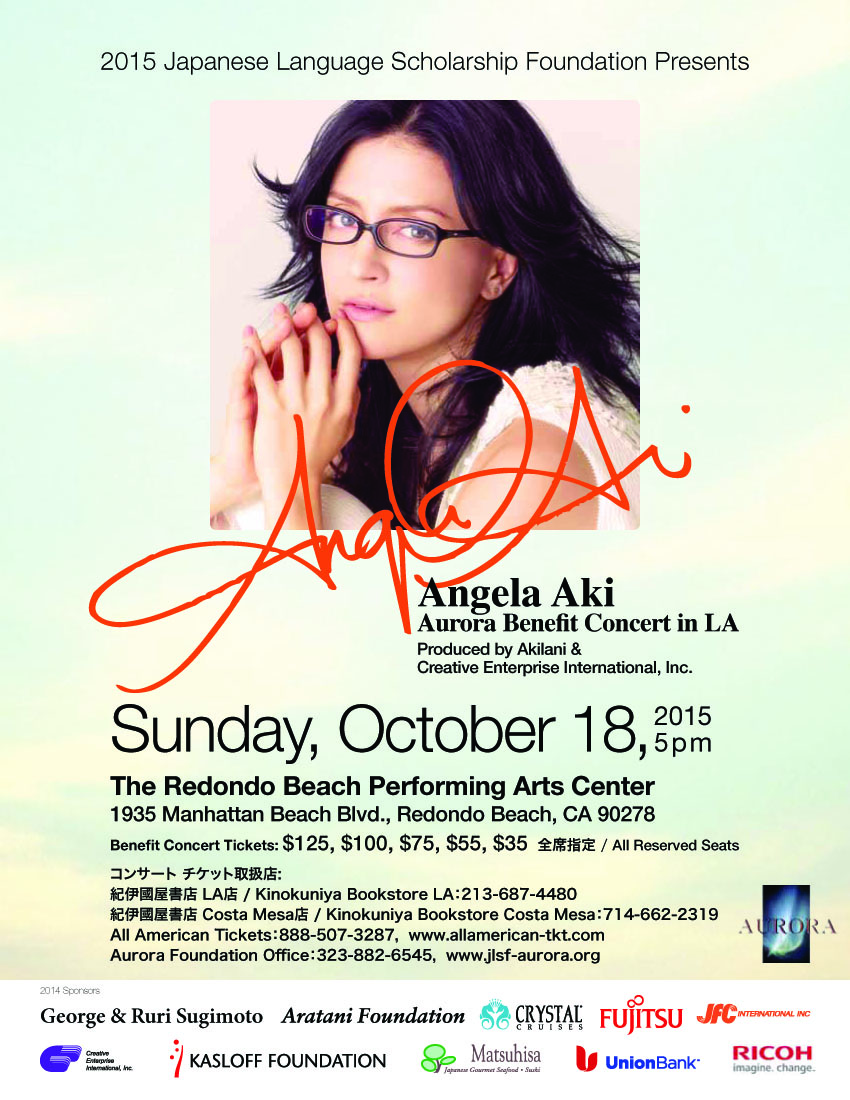 Benefit Awards Dinner, Auction & Gala Celebration
Friday, October 16, 2015
Double Tree by Hilton Los Angeles
Aggela Aki Benefit Concert in LA
Sunday, October 18, 2016
The Redondo Beach Perfoming Arts Center
Angela Aki
A singer-songwriter who was born to a Japanese father and Italian-American mother,
Angela Aki took up the piano at the age of 3. After spending her childhood in Tokushima and Okayama, Angela moved from Japan to Hawaii at age 15, continuing on to study Political Science at George Washington University in Washington D.C.
Angela's music started to materialize as a career while she was still in university.
In 2003, Angela Aki returned to Japan, and the 2005 release of her single "HOME" marked her major label debut. Her first album "HOME" has become a classic since its release in 2006, with cumulative sales counting over 600,000 units. Angela and Nobuo Uematsu, the composer renowned for the music in the Final Fantasy game series, co-wrote the single "Kiss Me Good-Bye" for the international megahit game Final Fantasy XII on PlayStation 2.
Within the year of her debut album, Angela successfully made her dream of playing at The Budokan a reality in December 2006.
Not only that, she became the very first singer at the grand Budokan, celebrating a half-century as a concert venue starting with its performance of The Beatles, to play a full solo concert with just a piano. Angela was fast growing into a talented entertainer able to create a special experience with her skilled live performances.
Angela's 2007 sophomore album "TODAY" marked her first #1 on Oricon album charts.
She composed "Tegami: Haikei 15 no Kimi e (A letter: Dear the 15-year-old You)" as the compulsory piece for the junior high category of NHK's country-wide music competition. The track acquired Platinum Disc status in 2008 and has since become a favorite for audiences of all ages.
Her third album "ANSWER" released in 2009 also topped Oricon album charts. She had earned the following of her female contemporaries, who strongly identified with her honest, true-to-life lyrics. This album also includes "Black Glasses," a track co-written and performed with singer-songwriter/producer Ben Folds for whom she always had much respect.
For her following and fourth album "LIFE," she ventured to Nashville to record with Grammy artist Janis Ian.
This album features an equal number of English tracks and Japanese tracks, which in a sense embodies her bicultural identity drawing from both Japan and the United States.
She has since continued to evolve and recorded "WHITE" (5th album), "SONGBOOK" (6th album), and "BLUE" (7th album).
In 2013, Angela announced to her fans that she will be indefinitely taking time off from the music business in Japan starting in Fall 2014. The following year, 2014, her very first greatest hits album "TAPESTRY OF SONGS--THE BEST OF ANGELA AKI" was released, featuring hits from her 10 year career to present. Her concert at The Budokan on August 4, 2014 marked the last of her public appearances in Japan.
Angela currently resides in the United States with her family and is studying for a university degree in music, in her efforts to continuously evolve and strive towards new dreams. She has also started working on a Broadway musical project.
http://www.angela-aki.com/index.html
2015 Thank you!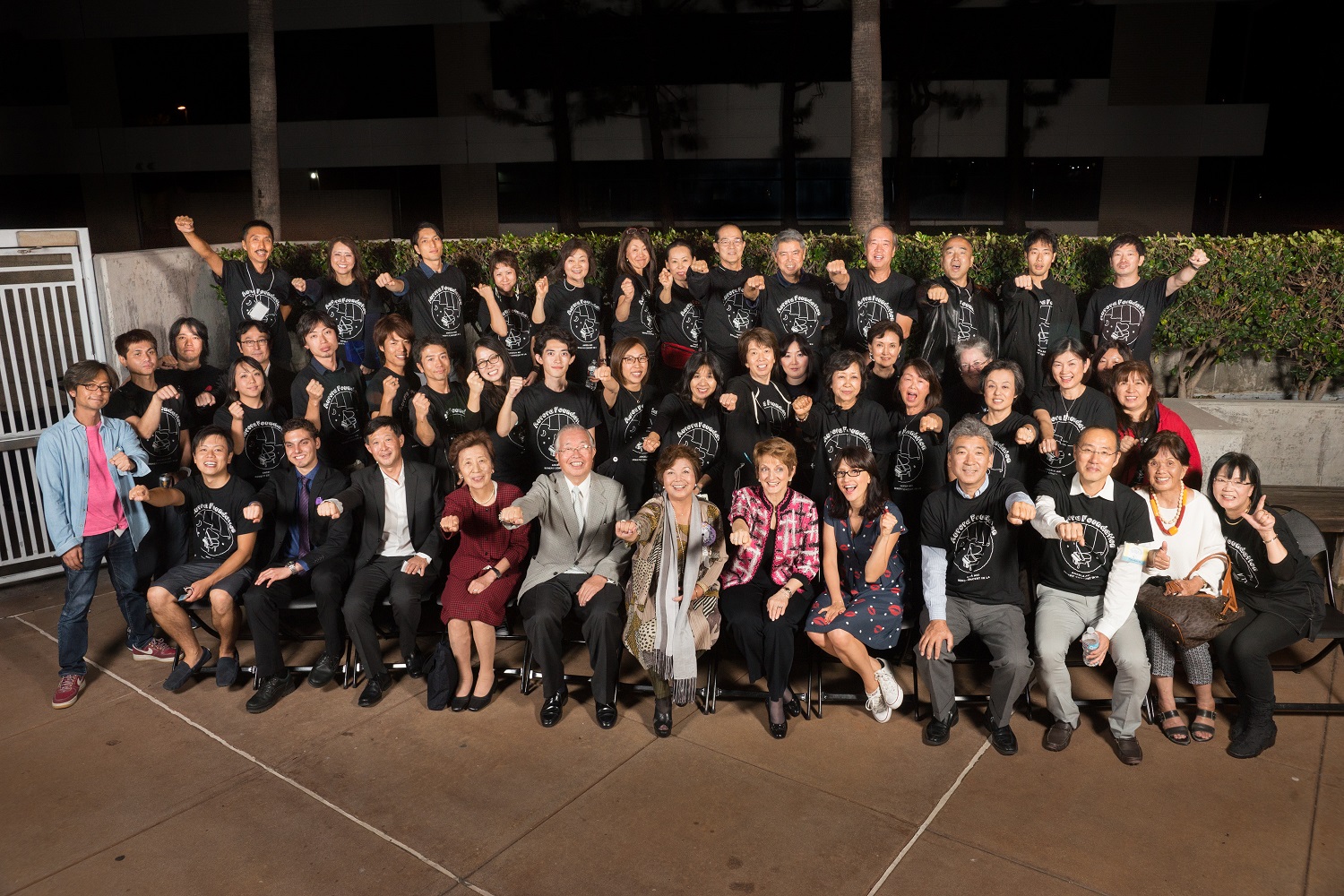 Sunday, October 18, 2015
Photo by Tak Iitomi
2014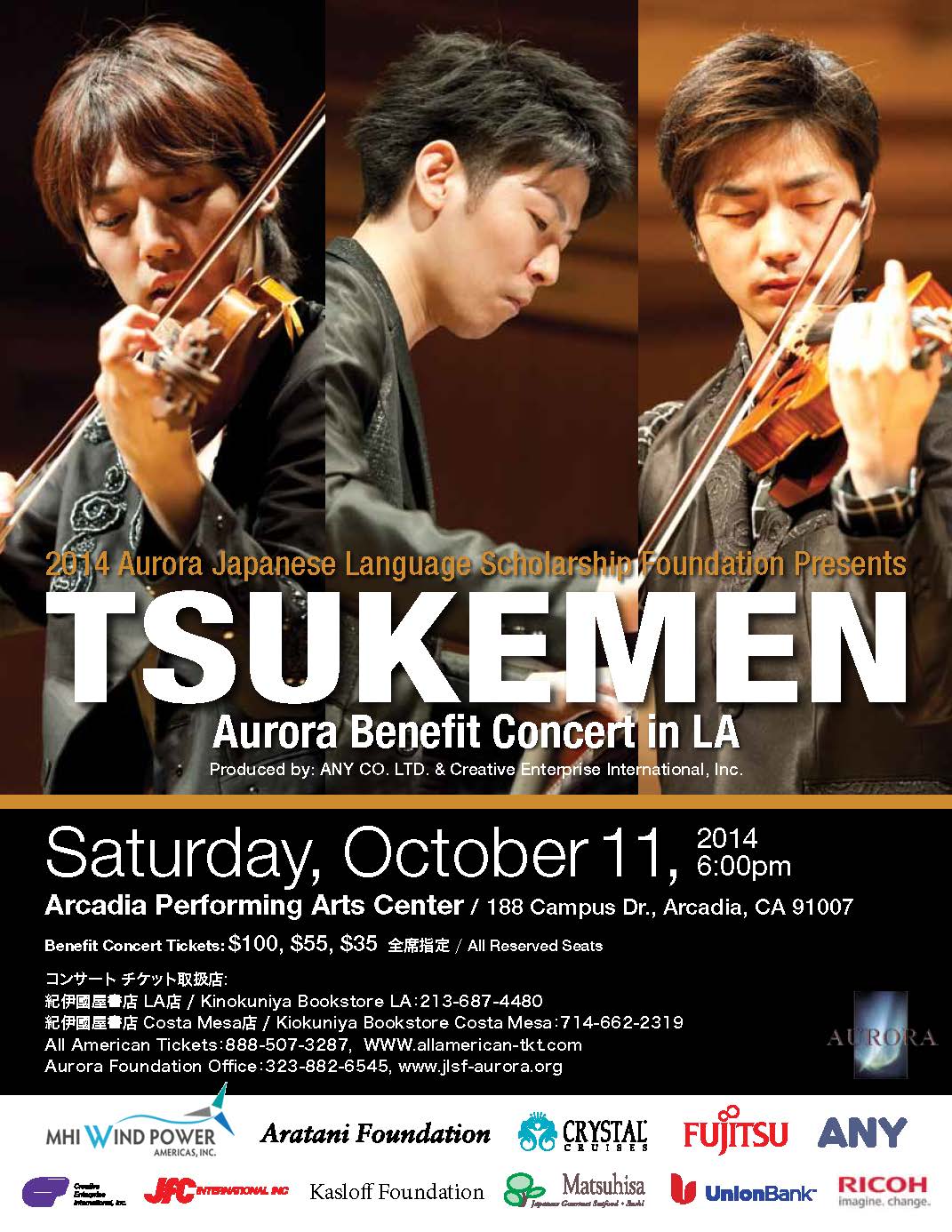 The 16th Anniversary
Benefit Awards Dinner, Auction & Gala Celebration
Friday, October 10, 2014
Double Tree Hotel by Hilton Los Angeles
TSUKEMEN Benefit Concert in LA
Saturday, October 11, 2014
Arcadia Performing Arts Center
TSUKEMEN
is a Japanese acoustic instrumental group consisting of two violins and a piano.
Committed to producing "natural sound," the group does notuse any electronic audio equipment whatsoever.
Annually, they perform in more than 80 live concerts across Japan.
Not only does the band play original tunes composed by its own members,
but it also fascinates their audiences with a wide variety of genres including
classical, movie tunes, jazz, game music, and animation themes.
The group made its debut in December, 2008,
with a two day concert held at the Blue Rose Room of Suntory Hall in Tokyo.
In March,2010, the group released its first album BASARA from King Records,
and since then, each of the four albums released by the group has reached No.1 in the Classic Chart.
In addition, they began performing not only in Japan but also in New York and in Korea;
in March, 2014, TSUKEMEN traveled to Germany to perform their completely original music
with the prestigious Stuttgart Chamber Orchestra.
In June, they plan to release their first orchestrated album Across~~TSUKEMEN Special Live in Stuttgart, which was recorded there.
By the end of this year, the group will have performed in more than 300 live concerts throughout Japan.
These concerts have given them renewed strength, charming their audiences and capturing their attention.
Their stage, without particular genres, belongs to no specific area, creating new types of music.
It's neither classical nor pop; it's the music of TSUKEMEN.
2014 Thank you!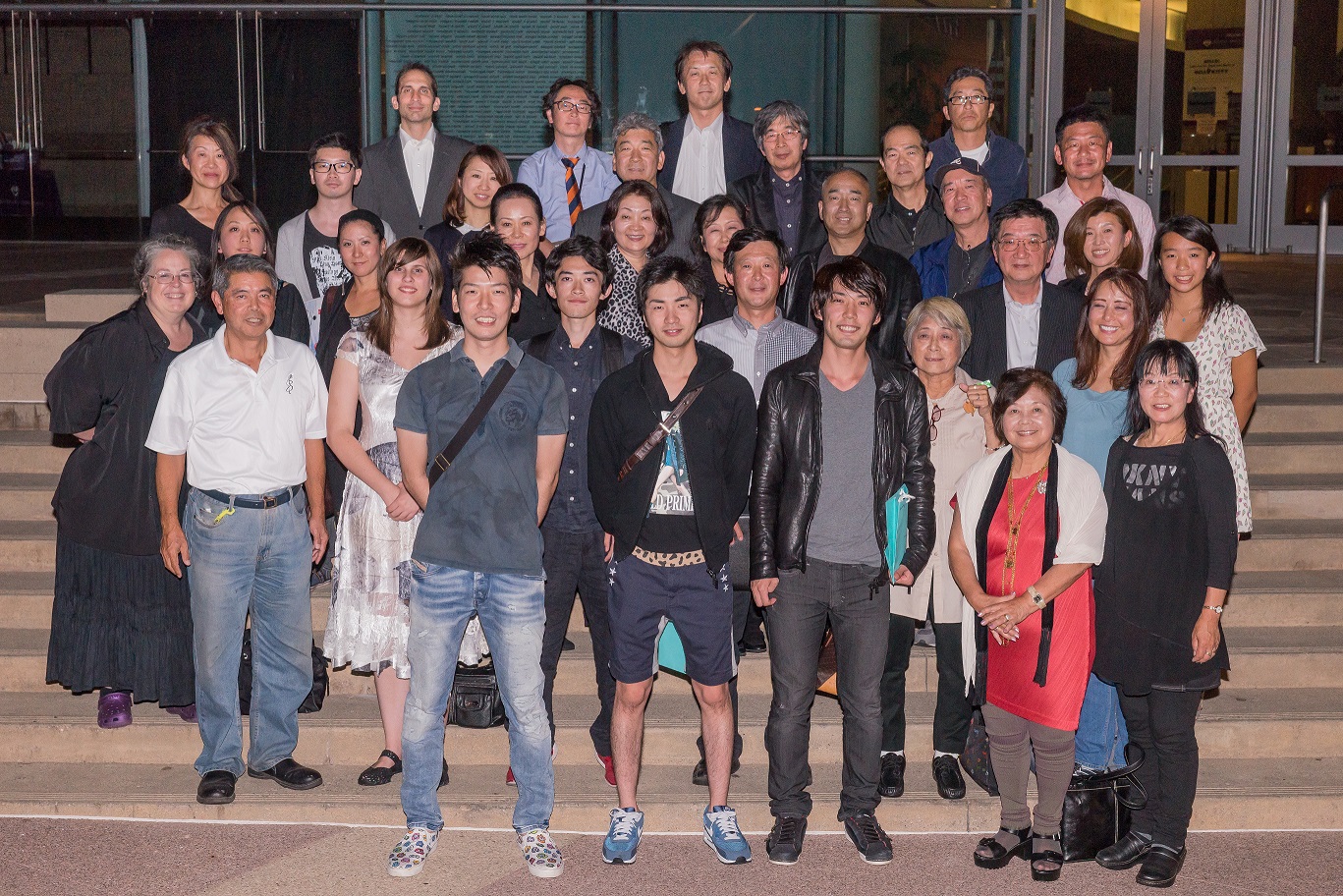 Japanese Language Scholarship Foundation
(DBA Aurors Foundation)
would like to express our gratitude and appreciation
to all of the sponsors, staff, volunteers, and supporters
who made TSUKEMEN Concert a great success.
We could not have succeed without your dedication and support.
October 11, 2014
Photo by Taro Yoshida
2013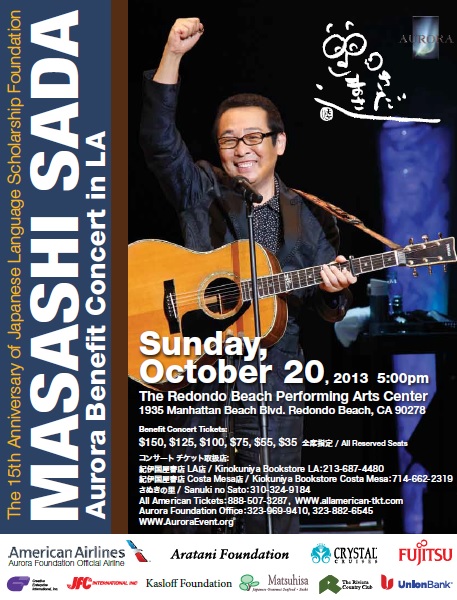 The 15th Anniversary
Aurora Benefit Awards Luncheon, Auction & Gala Celebration
Saturday, October 19, 2013
Riviera Country Club
Masashi Sada Benefit Concert in LA
Sunday, October 20, 2013
The Redondo Beach Performing Arts Center
MASAHI SADA
Born in Nagasaki on April 10, 1952.
Singer, song writer and novelist. Debued in 1973 as a band named Grape with big hits songs including Shoronagashi, Muenzaka.
Became solo singer in 1976 and he released numerous national big hits songs including Amayadori, Cosmos, Kanpakusengen, Kitanokunikara and more.
Last year, he released his Grape's 41st annual album and solo album.
His lifework is concert and it will be 4000 in July, 2013.
He also started as novelist and released his first book "Shoronagashi" in 2001, became bestseller followed by "Gege", "Antokinoinochi", "Kasutera", "Hakaonsan" etc. and four of them became Movies.
2013 Thank you!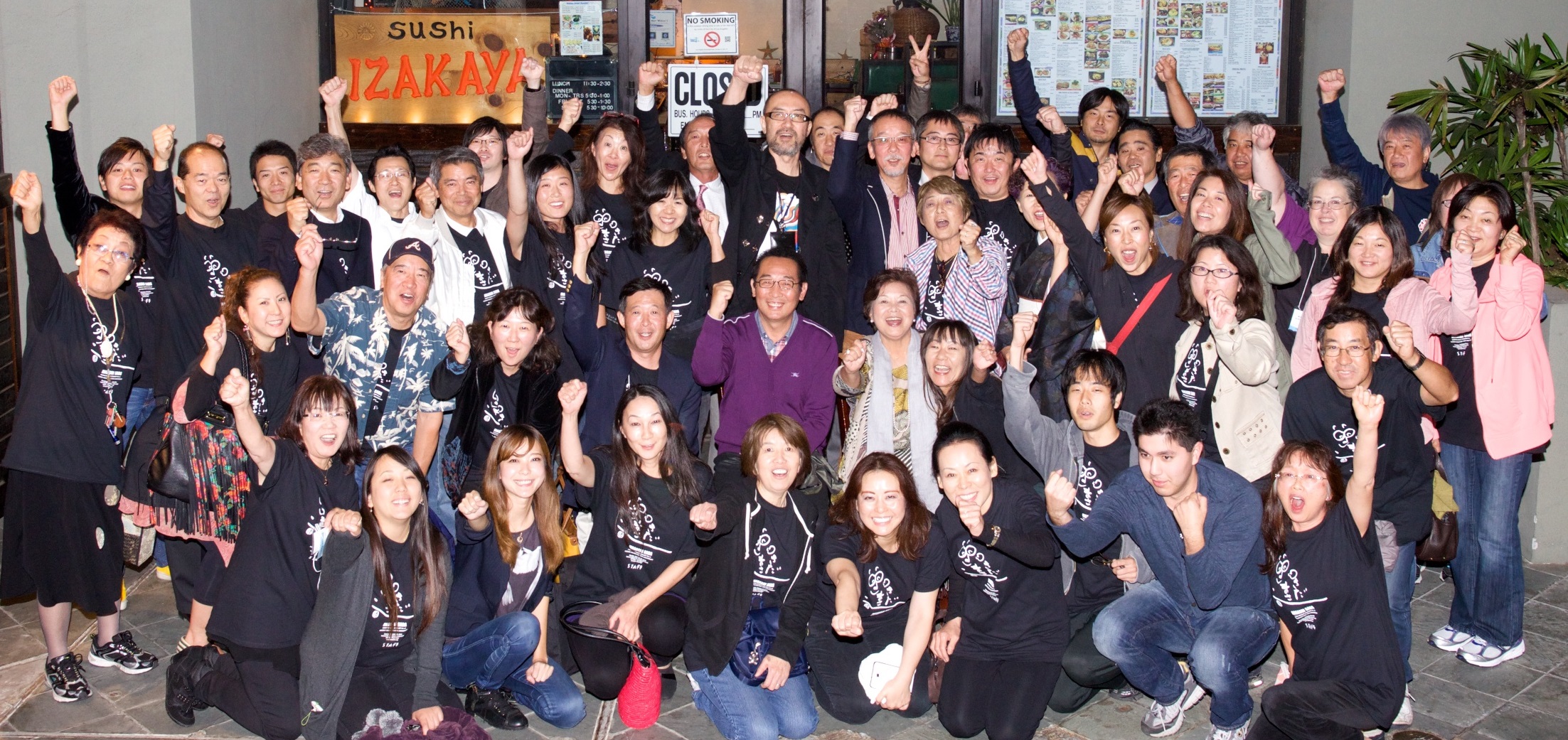 October 20, 2013
Phot by Taro Yoshida
2012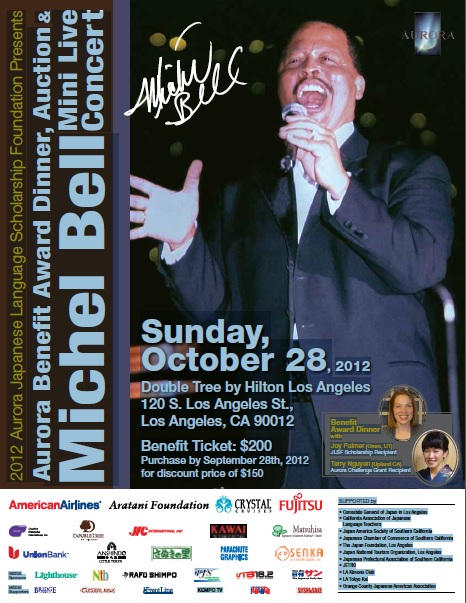 The 14th Anniversary
Aurora Benefit Awards Dinner, Auction
& Michel Bell Mini Live Concert in LA
Sunday, October 28, 2012
Double Tree by Hilton Los Angeles
MICHEL BELL
Michel Bell ended the last century on the steps of the Lincoln Memorial in front of the President and First Lady, singing to over 600,000 people at "America's Millennium", the New Year's Eve 2000 celebration.
On the Broadway stage, Mr. Bell received a Tony Award nomination for his portrayal of "Joe" in Hal Prince's production of Show Boat. He has also received the Jefferson Award (Chicago) and the Ovation Award (Los Angeles). In 1998, Michel Bell made his West End debut in London, in Show Boat at the Prince Edward Theatre. Again on Broadway, he starred in the Frank Wildhorn musical Civil War at the St. James Theatre, and earned an Outer Critic's Circle Award. Most recently, he appeared on Broadway at the Gershwin Theatre as vocal soloist in Riverdance: The Musical. He was also part of the Riverdance World Tour, performing in Europe and the Far East.
Mr. Bell is especially known for his emotional portrayal of "Porgy" in Gershwin's Porgy and Bess, which he performed in the United States, Berlin, Cairo, Tokyo, Pompeii, Paris and Eritrea.
He has performed with the San Diego Opera, Michigan Opera, Opera Pacific and Lyric Opera of Kansas City as well as the L.A. Philharmonic, San Diego Symphony, Fresno Philharmonic and Berlin Radio Orchestra.
Michel was formerly a member of the Fifth Dimension vocal group, and has performed with many entertainment greats including Frank Sinatra, Bing Crosby, Julie Andrews, Perry Como, Sammy Davis Jr. and Bill Cosby.
2012 Thank you!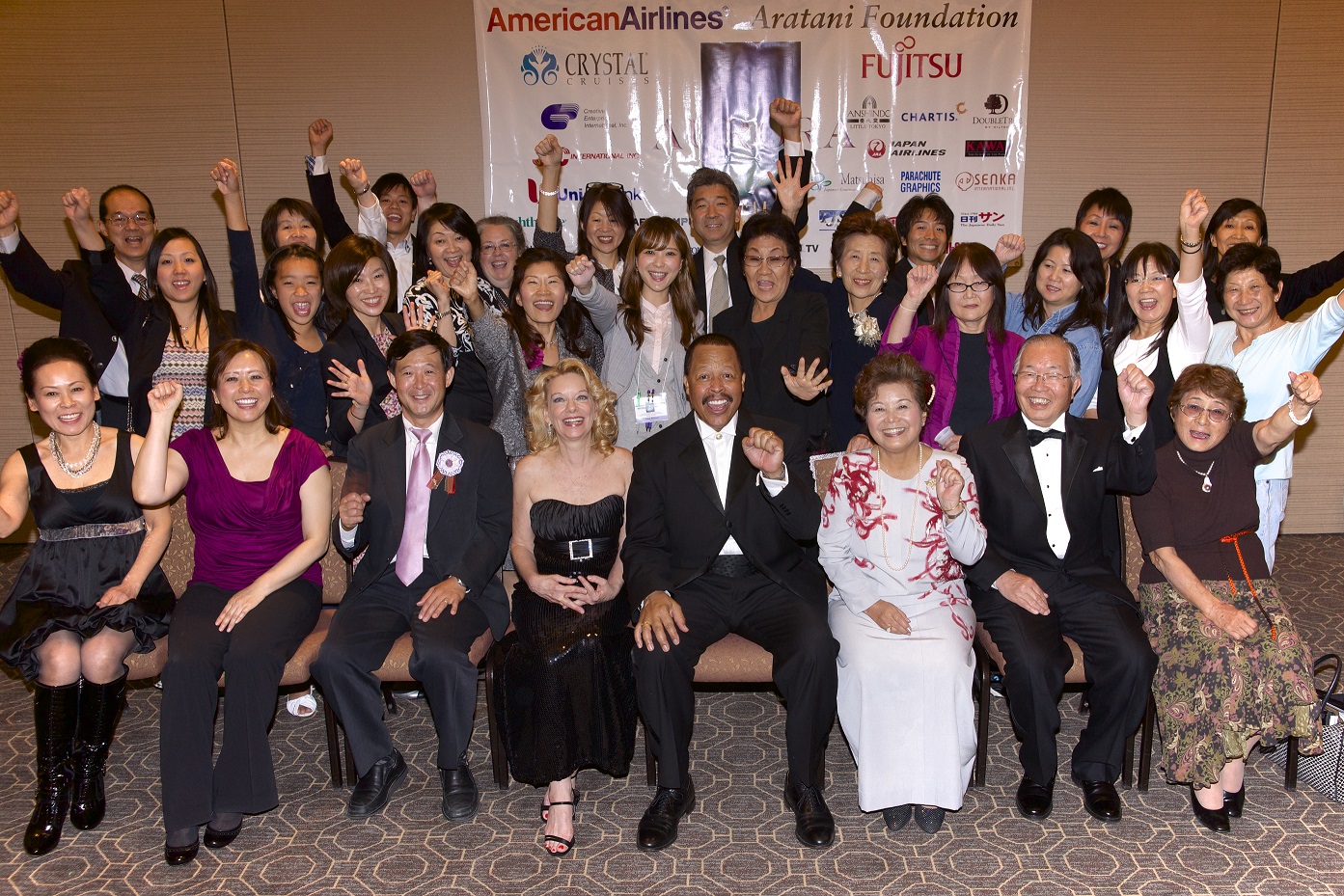 October 28, 2012
Photo by Ken Matsui
2011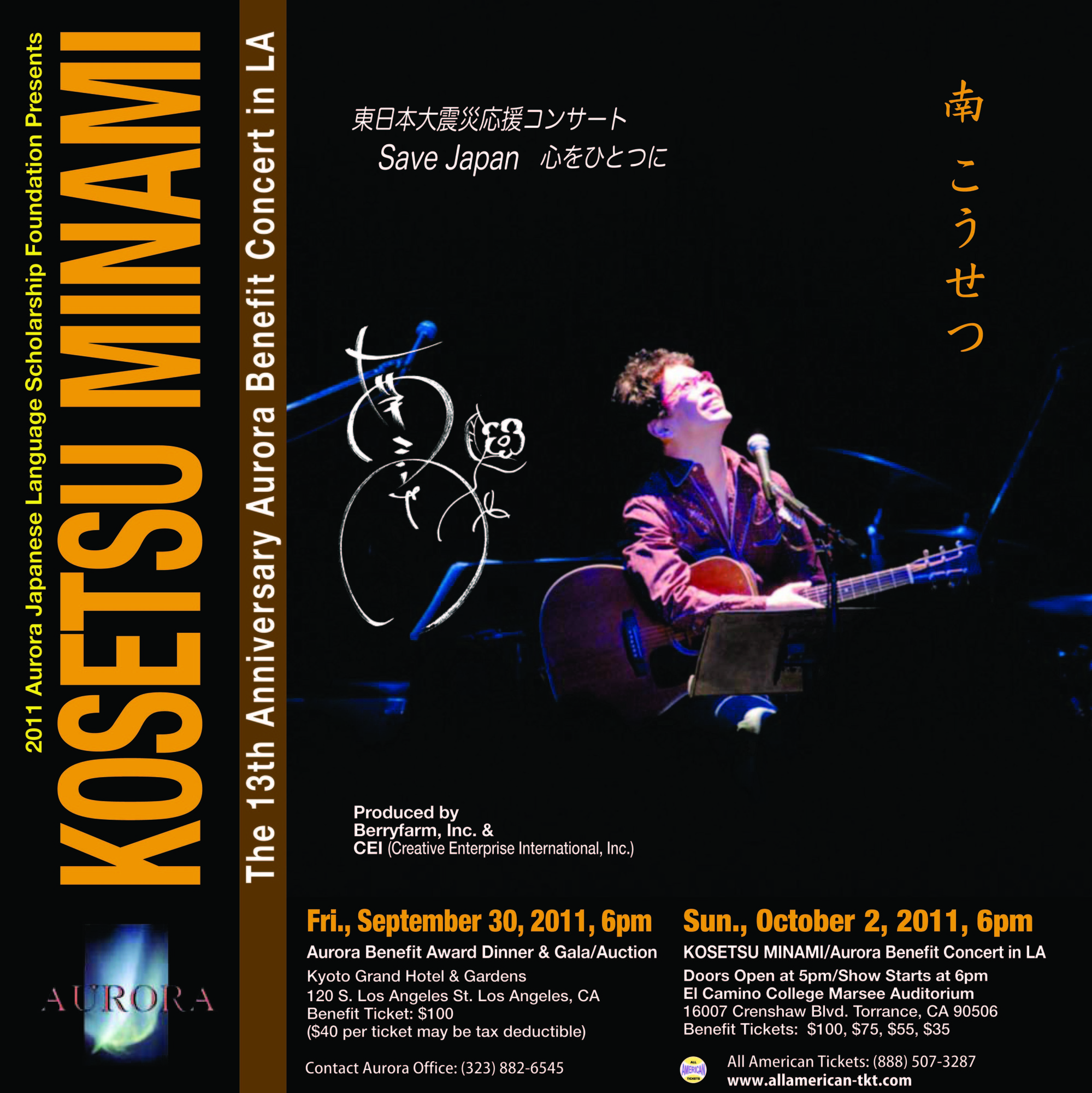 The 13th Anniversary
Aurora Benefit Awards Dinner & Gala/Auction
Friday, September 30, 2011
Kyoto Grand Hotel & Garden
KOSETSU MINAMI Benefit Concert in LA
Sunday, October 2, 2011
El Camino College Marsee Auditorium
Kosetsu Minami was born in Oita in 1949, and formed the band Kaguyahime in 1970.
Its distinctive musicianship and vitality taking Japan's nascent folkmusic scene by storm.
After Kaguyahime disbanded in 1975, Minami continued to produce big hits such as Natsu no Shojo and Yume Hitoyo. Minami has also been a pioneer of innovative musical events, attracting 60,000 fans to the all- night concert, and meeting with success as the first Japanese artist to hold a concert at the Nippon Budokan. From 1986 Minami also produced and performed in an annual "Hiroshima Peace Concert", raising a total of over 200 million yen towards the building a new nursing home for radiation victims.
Another long term project is his series of "Green Paradise" concerts, held every year since 1992. Kaguyahime reunited in 1999 and put on its first tour in 22 years from the following May 2000 to January 2001. Kosetsu turned 60 in 2009, but age has not slowed him down.
An audience of 20,000 people gathered for his summer concert that year, and he released a new album which was well received, positive reviews and hit a high sales rate. Now in 2011, Kosetsu is currently touring all over Japan.
2011 Thank you!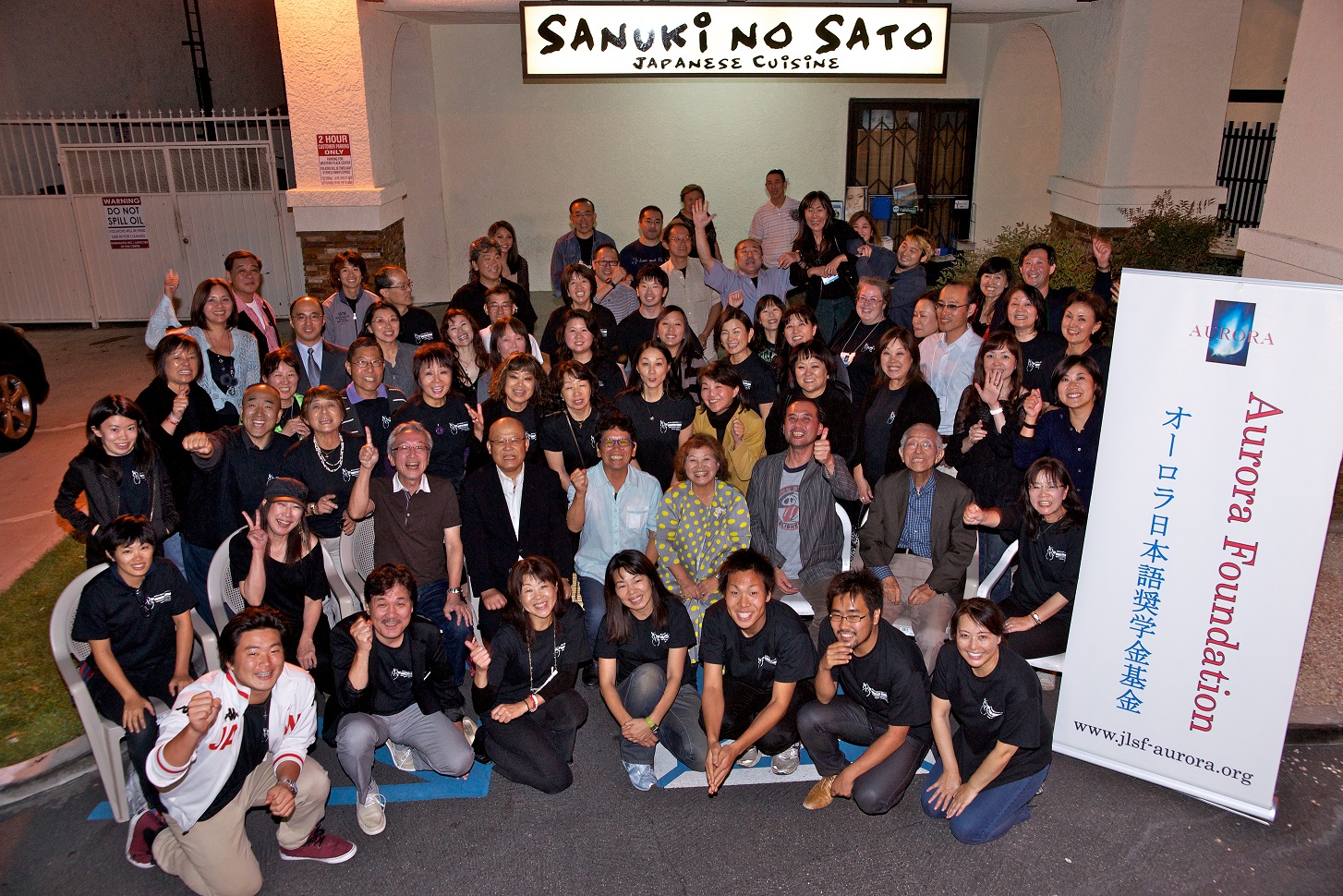 September 30, 2011 Photo by Taro Yoshida
2010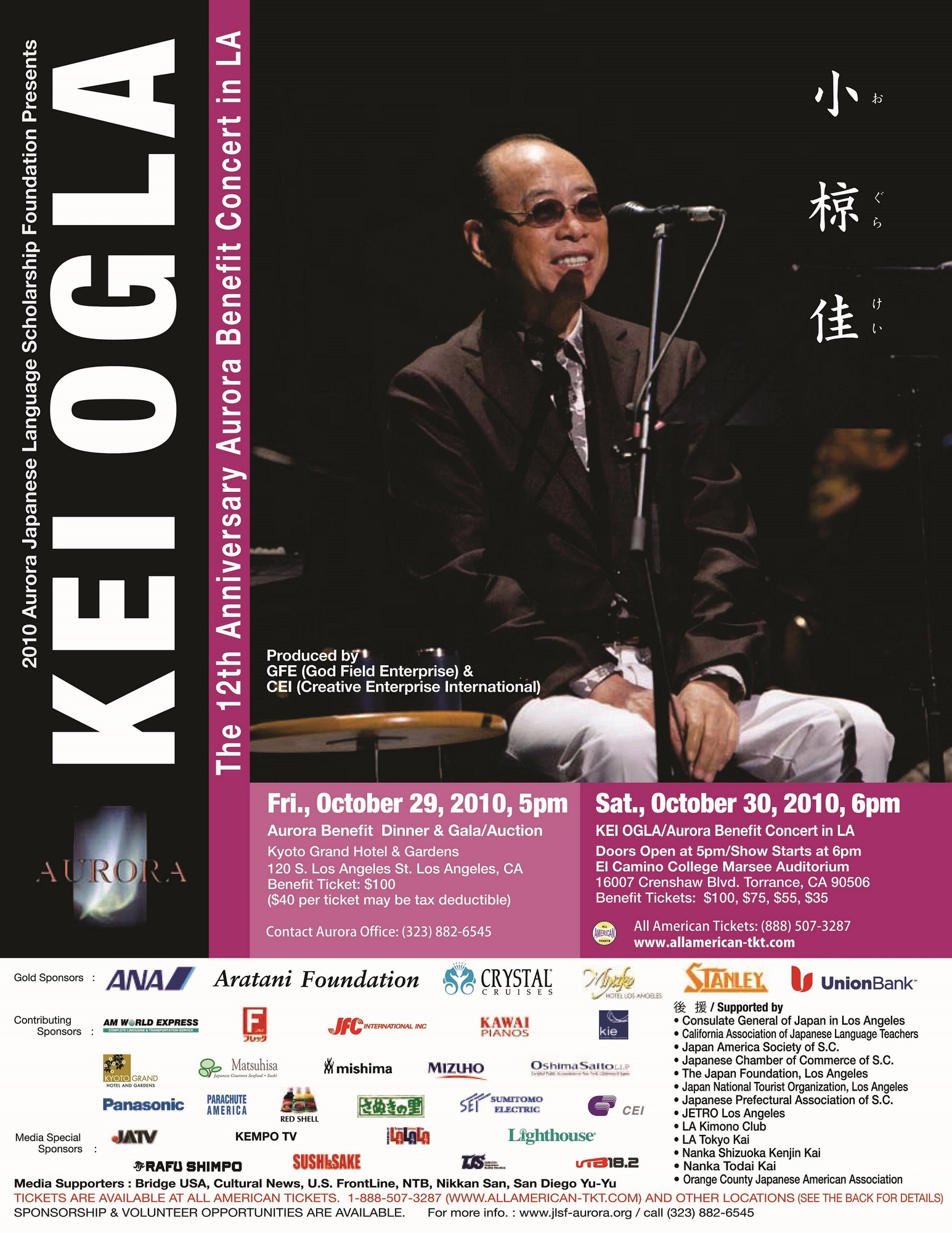 The 12th Anniversary
Aurora Benefit Dinner & Gala / Auction
Friday, October 29, 2010
Kyoto Grand Hotel & Gardens
KEI OGURA Benefit Concert in LA
Saturday, October 30, 2010
El Camino College Marsee Auditorium
Kei Ogla is a singer, songwriter, and composer, and has been one of the most well known artists in Japan. Ogla was born in the Ueno district of Tokyo in 1944. He graduated from University of Tokyo in 1967 and started working for Nihon Kangyo Bank (Mizuho Bank). In his 25 years at the bank, he became a branch manager at the Hamamatsu branch and was Financial Service Manager at the bank headquarters.
He retired from the bank in 1993 and got accepted into University of Tokyo again to study Philosophy
and received his Masters degree in 2000. All during his bank and academic years, Ogla also was very active in his music career. His first major LP album was released in 1971. His third album, "Samayoi" (1972), sold over a million records. Ogla shared his compositions with top popular musicians in Japan, and many of the songs he wrote have become truly iconic in Japanese music history, including such songs as: "Shikuramen no Kaori," "Oretachi no Tabi," "Yume Shibai," "Itoshiki Hibi," and "Ai Sansanto."
Mr. Ogla has received numerous music awards for his lyrics as well as his compositions, including Japan's top music award, the Japan Record Award. Ogla has been passionate about writing stage musicals, and his shows "Algo," "Bunza," and "Ikyu Soujyun Story" were well received and highly acclaimed by wide range of audiences.
2010 is his 40th anniversary of Ogla music career, and his anniversary tour, "Kaiko, Tabi Tojyo" is touring all over Japan.
2010 Thank you!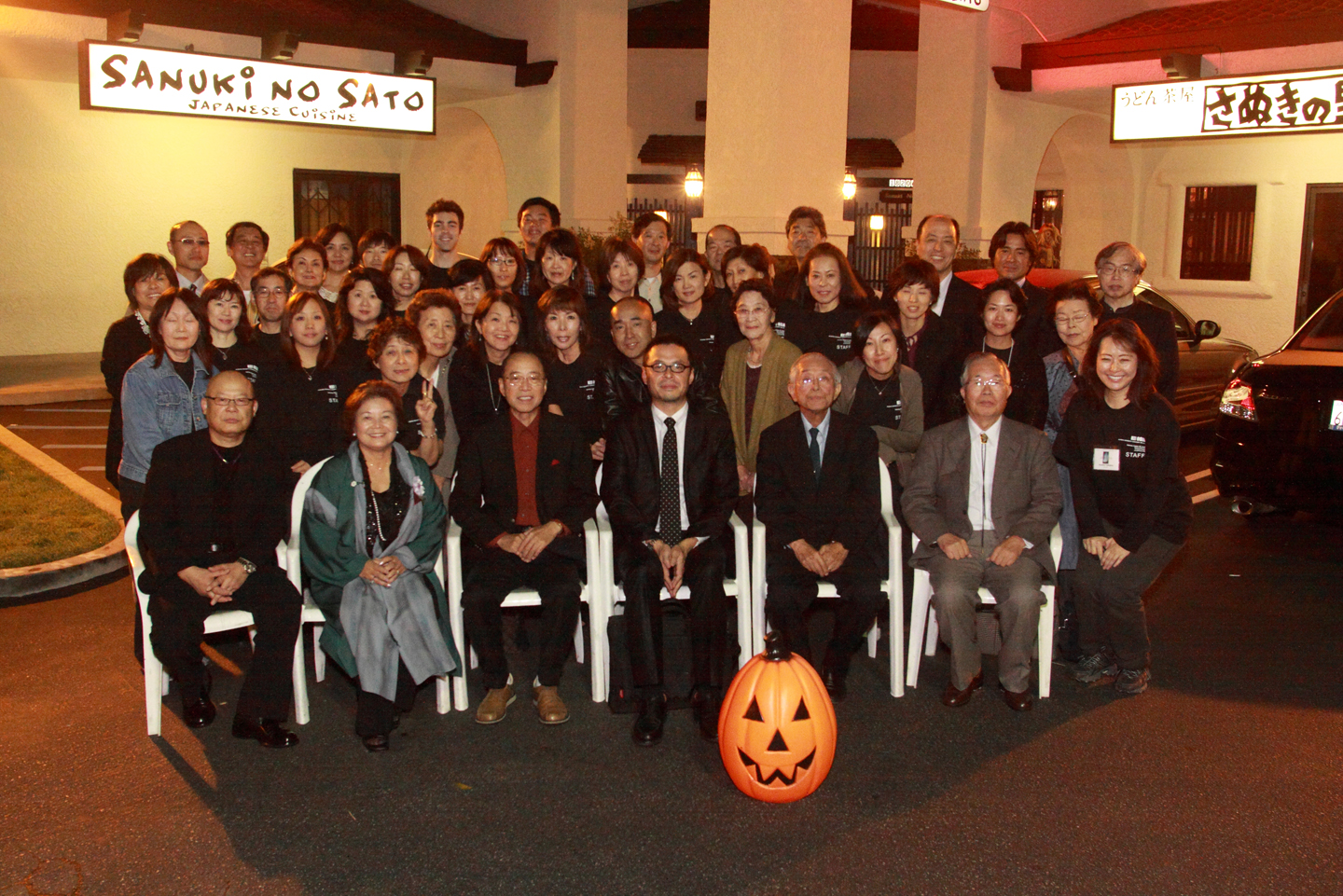 Saturday, October 30, 2010
Photo by Ken Matsui
2009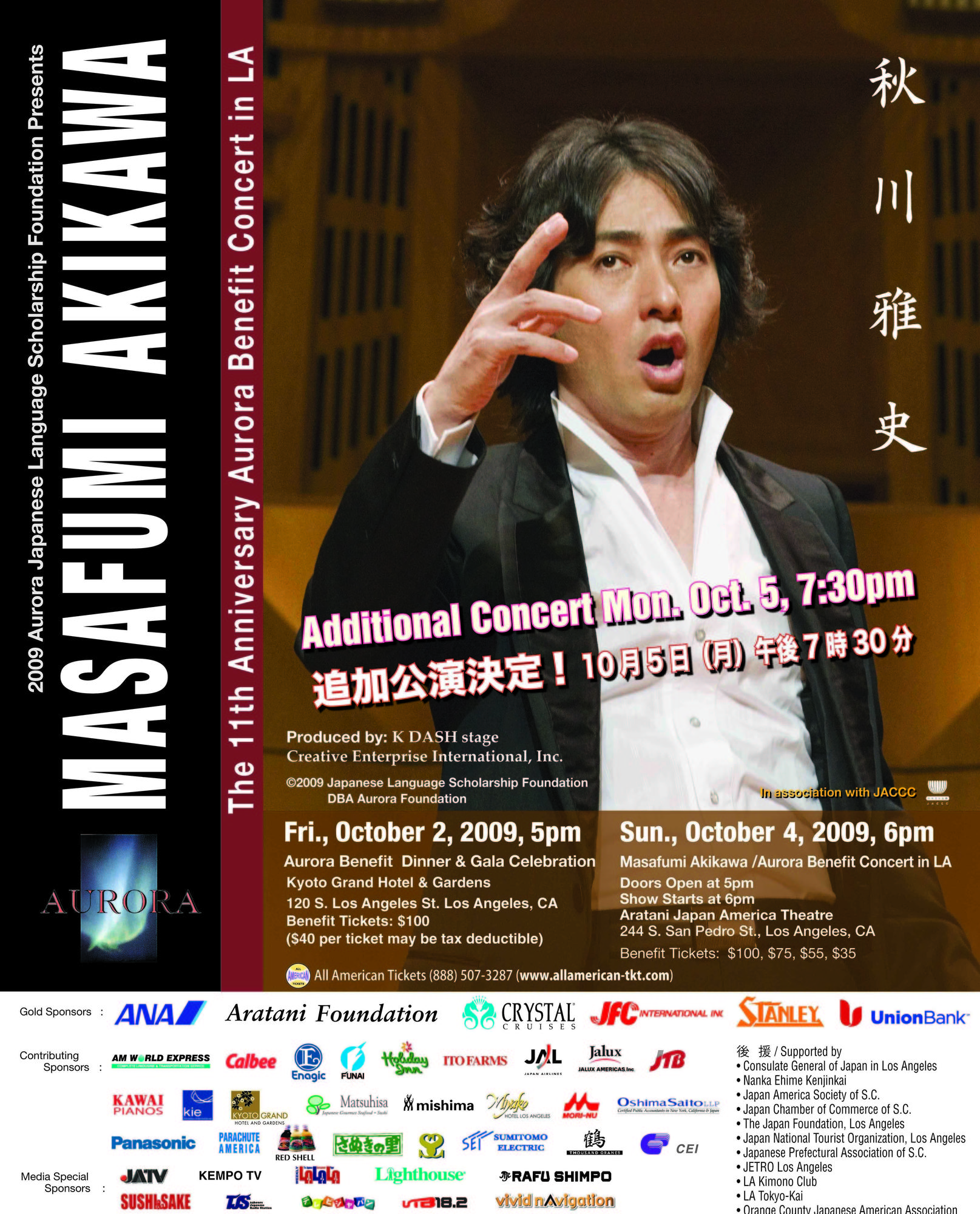 The 11th Anniversary
Aurora Benefit Dinner & Gala / Auction
Friday, October 2, 2009
Kyoto Grand Hotel & Gardens
MASAFUMI AKIKAWA Benefit Concert in LA
Sunday, October 4, 2009
Monday, October 5, 2009
Aratani Japanese America Theatre
Born in Ehime, Japan, 1967; Mr. Akikawa started playing violin and piano at the age of four, and later began learning to be a singer under the guidance of his father.
He was taught music at Kunitachi College of Music by Takeshi Nakamura. After that, he spent four years studying music at Palma, Italy. In 1998, he was awarded best of Canzone and also best of the Japanese Classic music awards. In 2001, he made his major recording debut as the youngest tenor singer with his single "Passione".
He released "Sen no Kaze ni Natte" in 2006 and became a social phenomenon. He has appeared on NHK's "Kohaku Uta Gassen" three years in a row since 2006.
2009 Thank you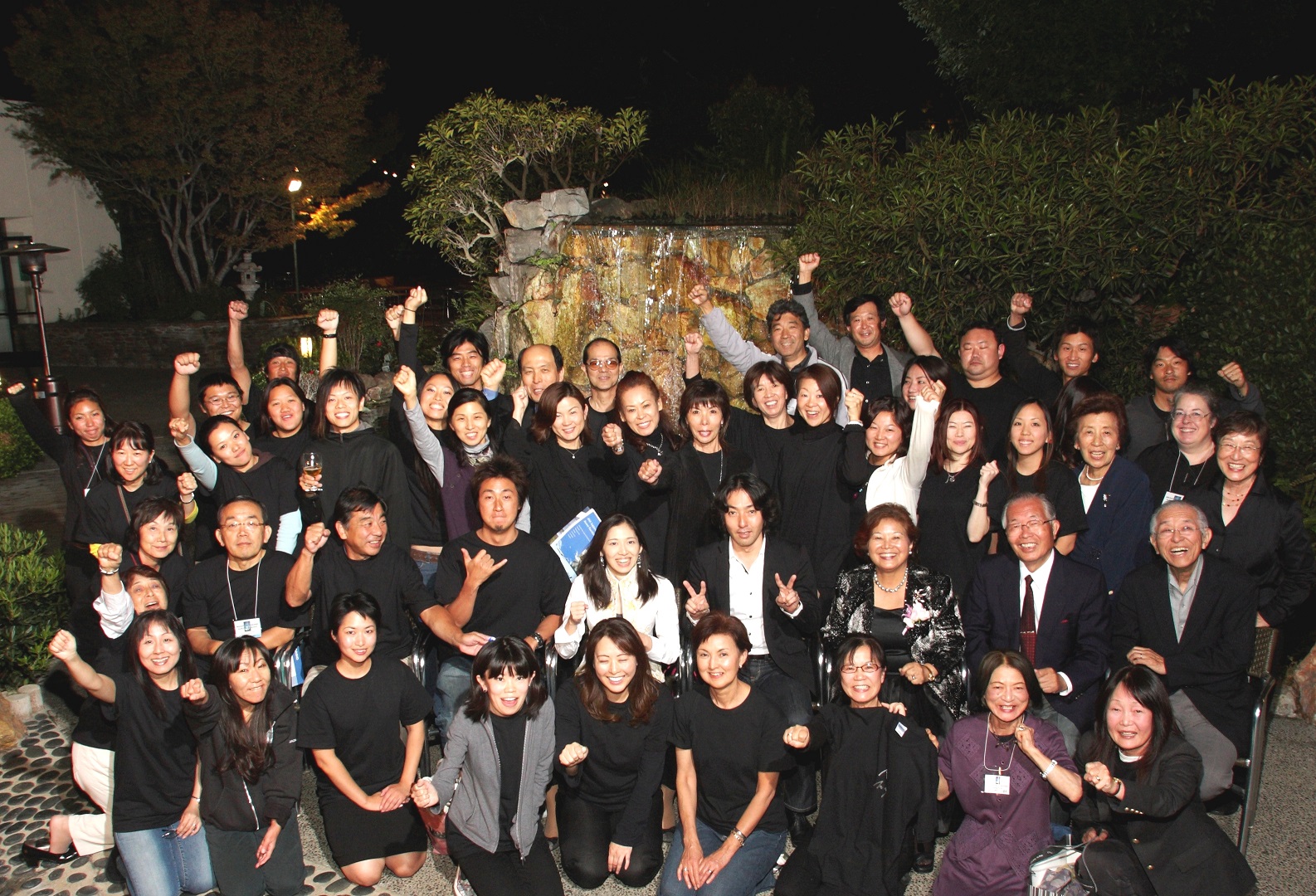 October 5, 2009
Photo by Ken Matsui
2008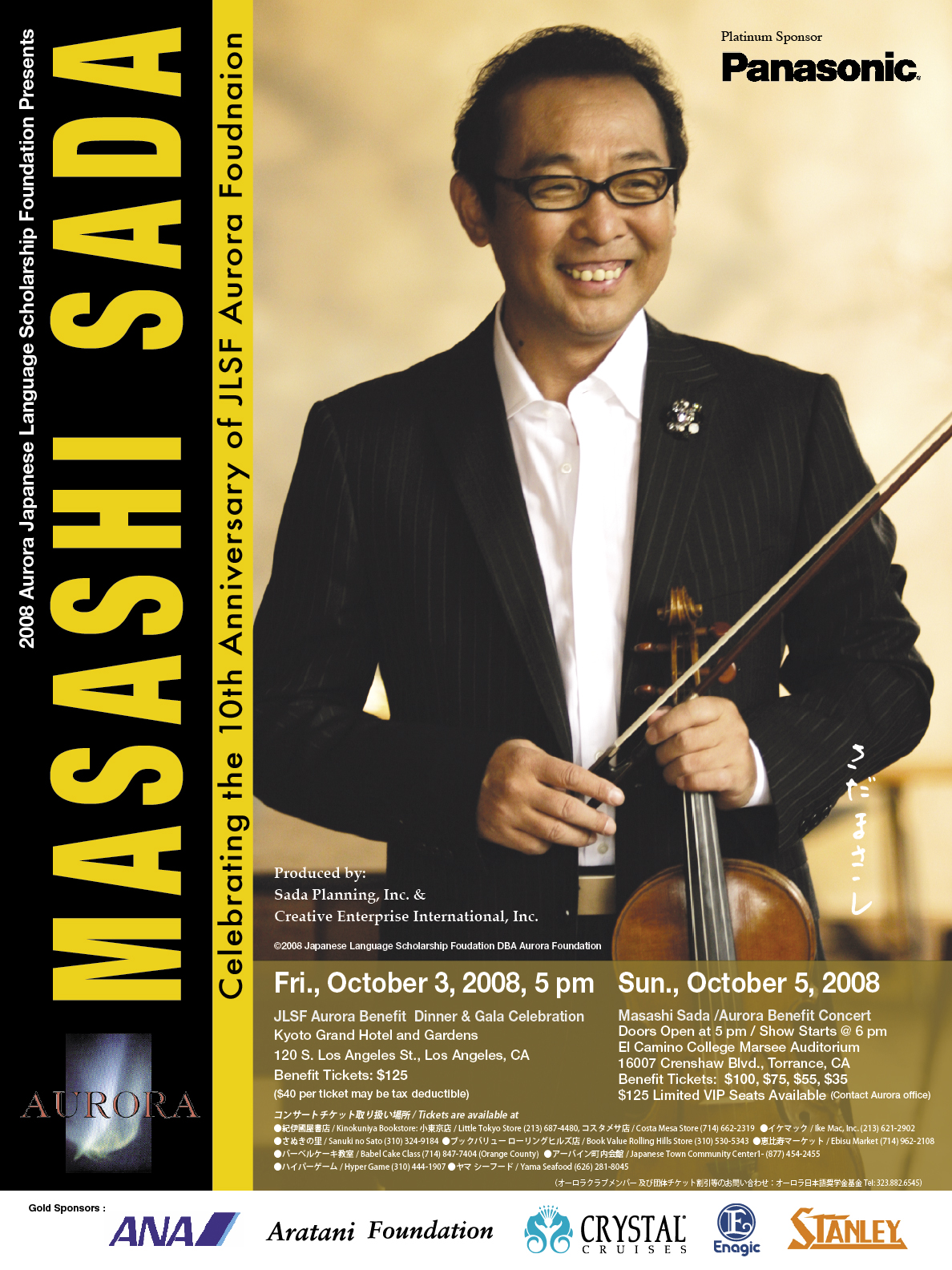 2008 Thank you!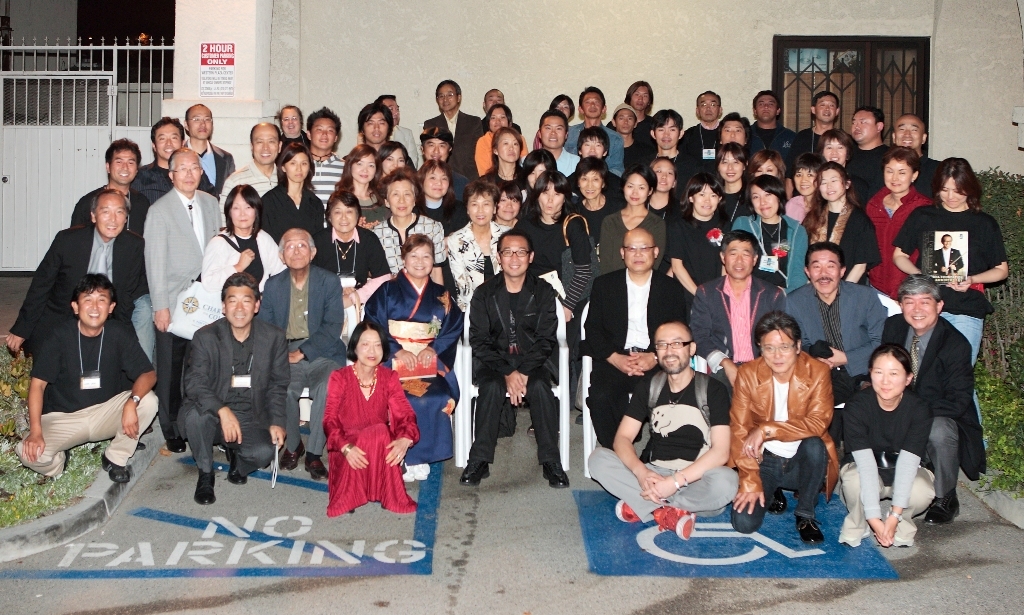 Sunday, October 5, 2008
Photo by Ken Matsui